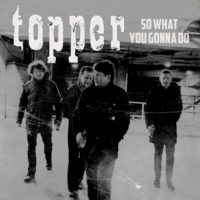 Topper, som är ett Stockholmsbaserat band, bildades 2000 med medlemmar som spelat i olika band sedan 80-talet. Sommaren 2014 byttes laguppställningen något men har i övrigt sett likadan ut sedan starten 2000.
2000 hade Topper en radiohit med låten "Once A Punk Always A Punk" som 2005 följdes upp med en fullängdare med samma titel. 2010 släppte bandet sin andra fullängdare "Punk Don´t Death – Just Get Through It. Topper har genom åren spelat med band som Buzzcocks, The Boys och UK Subs."
Topper har nu signat med AMTY Records och släppt en video till singeln och titelspåret "So What You Gonna Do". Under hösten/vintern 2015 åker Topper på Tysklands-turné. Topper kommer även supporta The Adicts vid några tillfällen under deras Europa-turné senare i höst.
Köp/ladda ner här:
https://itunes.apple.com/us/album/so-what-you-gonna-do-single/1034397729

Se videon: