News
Publicerad 1 september, 2017 kl. 13:58 i kategorin
News
Ton Up Club Stockholm and Bangarang Hi-Fi presents:
ROCKERS VS MODS 2017
A masched up 10 year anaversary with fantastic bands on stage!
Admission: 100 kr cash or swish iat the door
At Scandic Hasselbacken, Djurgården
DJs start playing at 15
https://www.facebook.com/events/1385384271501165
AMTY will be there and on stage you can see our own That Driving Beat: https://www.facebook.com/That-Driving-Beat-354297974624710/
See you there!!!
Publicerad 30 juni, 2017 kl. 13:58 i kategorin
News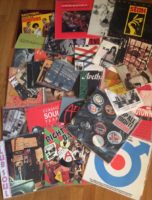 Publicerad 19 maj, 2017 kl. 19:24 i kategorin
News
Many rare vinyl singles and LP's!
Publicerad 20 januari, 2017 kl. 08:42 i kategorin
News
Publicerad 7 december, 2016 kl. 14:30 i kategorin
News