AMTY – The story so far
A Message To You (the name being a reference to the song by Dandy Livingstone and later The Specials and the written word) started as a ska fanzine in 1991, by Stefan Widell and Leif Bard. The idea was born in the winter of 1990 at Anders Halvardsson's (who worked for AMTY for a long time) ska club "Intensified". The first issue came out just in time for the big music festival – Hultsfredsfestivalen. The first two issues were in A4 format and quite lavish, but far too expensive to print, with the impact that only one fanzine per year was issued.
In 1992, A.M.T.Y. made a major investment and took the German ska band The Lodgers from Stuttgart to Sweden for two concerts, one in Stockholm and one in Uppsala. During that time we also had Maria Mattsson and Håkan Nyström as co-workers. After the second magazine AMTY was reduced to Stefan alone and the magazine's future seemed uncertain. The following three numbers consisted of stapled photocopies.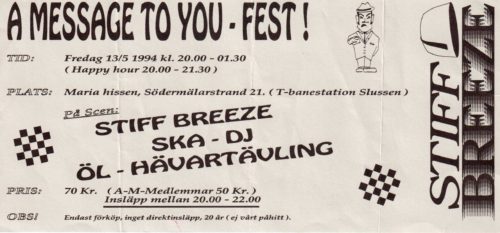 Early concert arranged by AMTY.
In 1994 Richard Schaffer (who helped with the booklets), jumped on the ska train and breathed new life into A Message To You. Issue number 6, which was published in autumn 1994 was a fresh start. We had begun selling ska related records on a small scale as a mail order and regularly appeared at the club Uptown Skankin' in Stockholm to offer our fanzines and other goods for sale. There would be another five issues including no. 12 in 1997 before A.M.T.Y. was reinforced further by Henrik Bjugård, who'd previously helped out a great deal with for instance club sales.
Mr Review interview Lübeck middle 90.s.
The first printed mail-order list was issued and another co-worker Anders Halvardsson joined in and made ​​sure we entered the internet. The previous problem of reaching outside Stockholm was blown away and then, as now we got e-mails from ska fans all around the world. Another dream came true in when we started our own record label and made the first release in 1999. During this time we also arranged ska clubs and sometimes concerts.
Augustibuller. AMTY selling mood.
In 2001 with the help of our friend Fredrick Fröderberg a new website was made with improved mail order. At that time the site was by far the best as ska related sites go (the then top modern site gradually became less modern over the following 10 years). Sales took off and we participated yearly in the music festival Augustibuller in Lindesberg to further distribute our merchandise.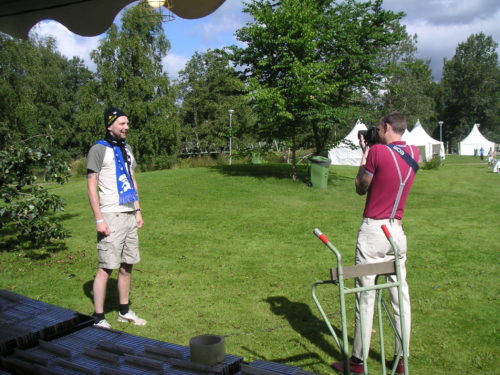 Henke photographed outfitted with merch.
The joy, however, was quite short. In 2003 The Hotknives cancelled a gig that we arranged in Stockholm. We found out about this the day before, which resulted in a huge economic setback and as a result of this, we stopped doing all the concerts and club events. However in 2004 we couldn't resist anymore, we set up some gigs with club stomp it. But after yet another setback gig (thanks to Tantogården) we reenacted the promise not to arrange more gigs for a long time to come.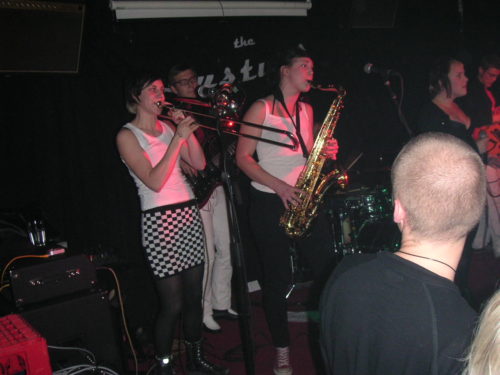 Concert Tantogården. Bustups.
Around year 2006 record sales drop dramatically because of the entry of digital music and downloading. The level of our commitment to AMTY fades a little during the subsequent period. But the show goes on and we continue to release records physically and digitally. With the help of our distributor Sound Pollution, we distribute our titles in all of Sweden, and the digital music world-wide. The fanzine fell asleep and the latest issue until now is AMTY no. 24 (issued in 2007). The fanzine might kick the bucket with a final number 25 sometime.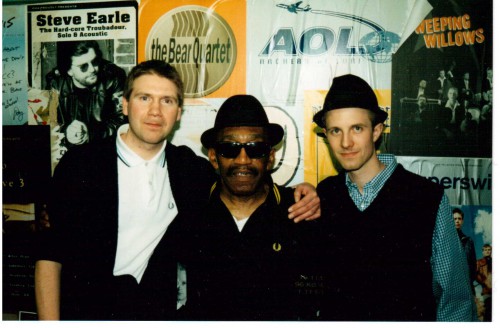 Stefan, Laurel & Rikard.
In 2012, we finally launched a new website with a far better web shop. We released our first LP on vinyl in the same year (after major problems with the record pressing company). We also resume our club. The year 2012 begin, however, in mourning. Magnus Dahvu who'd always been a bit on the periphery of AMTY pass away in cancer (at the end of 2011) and with him a good friend and true ska fan is gone.
With the new amty-site ready we get a large collection of Brutus Trimfits. A classical shirt brought to life again by one of the sons of the original creators. We visit Brutus showroom in London both 2012 and 2014.
Our vinylproduction takes another leap in 2014 with no less than three releases: Liptones – Sidospår LP (also released on CD), Supertonic Sound Club – Scheherazade and our second oi-/punkrelease Svintask – Vinstvarning. The following year marks a new direction of AMTY records as we've done six releases, mostly on vinyl. Now we added northern soul to the punk and ska-releases.
AMTY of today consists of Stefan, Rikard and Henrik.
Gigs and clubs – all arranged by AMTY over the years!
920313 The Lodgers. A Message To You have always tried to organize concerts but it was not always so easy. The first concert we organized was a great gig at The Circle ABF house on Sveavägen in Stockholm with German The Lodgers, who also was filmed live which became the first Swedish ska video ever.
920314 The Lodgers – Kalmar Nation in Uppsala. Since we didn't know anything about student life, we got a shock when we discovered that only students were permitted to enter. After some persuasion they had a change a change of heart and we rode around in Uppsala and picked up the skins and ska-people who'd made their way there. In the bus home after the concert Lodgers proudly opened a crate of what they thought was smuggled out beer. There was considerable disappointment when we told them that it was soft drink they had smuggled along.
940513 Stiff Breeze – Mariahissen Södermalm Stockholm. More than a hundred people came to this concert. Reasonably good turnout considering it was a "private" party that we could not advertise. Unfortunately, we assumed that all would drink as much beer as we used to do when we went out. There were ninety crates left.
961207 Skalatones, Crooked Beat and Stiff Breeze – Brygghuset, Stockholm. A.M.T.Y.s 5 year anniversary.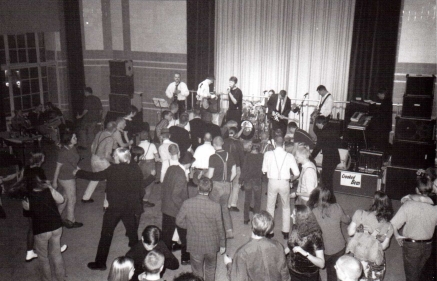 AMTY 5 years. Skalatones.
980227 Judge Dread & Crooked Beat. Time for our biggest concert in history, Judge Dread flown in from London. We filled the venerable Lorry in Sundbyberg outside Stockholm, to the breaking point. Crooked Beat was for- and backing band. There are only 7 songs with the legend when chaos erupted. Buy our special magazine about Dread to fins out more. Very readable! Not too long after Lorry burnt to the ground and never reappeared again.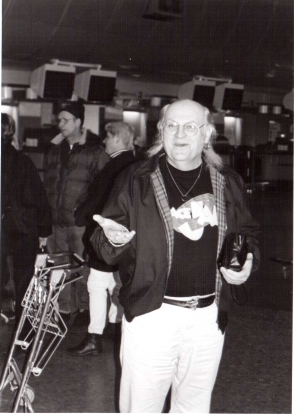 Judge Dread, taken on Arlanda airport.
980228 Judge Dread & Judge Dread. Pusterviksteatern in Gothenburg. The concert arranged together with Tobbe. Not the same success as in Stockholm, but acquired but all rehearsed songs were played. First act was U.S. College Boys (later known as USCB Allstars).
99-00 A.M.T.Y. the club. 1999 we started the club in the basement of the pub Läckerbiten in Stockholm. The club was on every other Thursday for about a year and a half years until authorities closed the place because of tax cheating and the serving of minors.

Two flyers from the clubs at Läckerbiten fronted by AMTY.
991202 The Repeaters from Västerås became the starting point for a lot of gigs to be at the pub Tre backars basement. AMTY also released a single with the band.
991217 Crooked Beat, Tre backar. One of the last gigs with the band, which was a shame considering how good they really were.
000105 Dim's Rebellion, our first punk-/Oi gig, with Stockholm's best Oi-act. A perfect gig. The place was full of energy and the band poured out their 80's Oi! Everything is just on top in Tre backars basement!
000120 Doub O 'Rella, one of the few bands with just girls! Once the audience roared up over the fine music the gig became even greater and the atmosphere just as good …
000309 Cigarres from Västerås (also at Tre backar). A good show with very nice reggae and ska, even if it was not as crowded this time.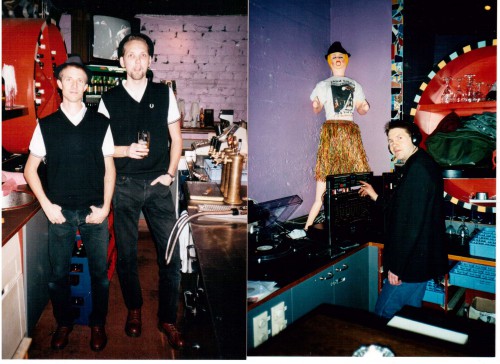 The club on Läckerbiten when it was at its best.
 000420 & 0504 AMTYs club moves to Phoenix. A less successful move. Nothing wrong with the audience and place, but the owner was a different story … so it was no more.
000616 The Repeaters (replaced Ichmet Bricket when one of the band tripped on his bicycle??) – Tre backar. Young people from Västerås (now adays even they are old men) got the place  rocking!
001130 Skalatones – Muhren. CANCELLED due to threats from some totally failed AFA guy. Threatening a place just for putting on a ska band (and one at that which just released a single with a black artist) claiming the event would be racist was just totally fucking intelligence freed. We still have a special thanks, that we'd like to convey, if the idiot made himself known!
001214 Skalatones & Crab – Muhren. A brilliant gig and a great comeback!
Skalatones with ex Selecter member Charlie Andersson.
001228 Crooked Beat – Muhren. Full house!
010111 Club in Muhren. Strengthened by previous gigs we tried a club in Muhren. Not a good idea it turned out since only  11 people showed up. Our lows (so far in our history).
010125 The Negatives. More bad luck. The ex Skalatones member Svegis new band The Negatives was supposed to play at Tre backar but they fell ill and we had to cancel.
010208 Repeaters. Played at  Muhren and made a smash! On Saturday, we followed the band down to Copenhagen, where they were opening act for The Special Guests from Berlin.
010330 Babyhead from Bollnäs played at Tre backar. The group did a very good concert – unfortunately the venue had a prohibition of live music after 10 pm. As a result only a few people attended the first songs but at the end of the gig it was packed.
Babyhead from Bollnäs.
010412 Mini-festival at Muhren with Magadogs, Crab and Skalatones. The contact with Magadogs develops into a vinyl release. Skalatones performed one of their last concerts before they split up.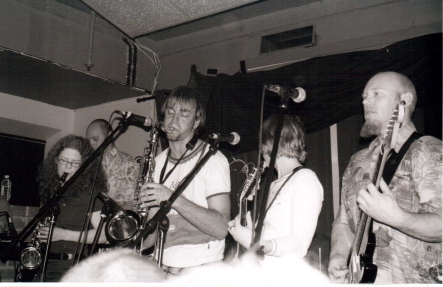 Krabb from Stockholm.
010819 CDS from Lysekil, Tre backar. On a few occasions before, we have had quite young bands, but this was the worst. We had to quickly hide the beer, which we'd intended to give to the band, before their parents got wind of it. But judge of our and the audience's amazement when these 14-16 year olds started playing. They knew their ska! Judge Dread-covers, and they also went into the "open season" game where Hepcat and Stubborn All Stars had their musical battle. It was a really fun gig and the band was called back several times. The songs they had rehearsed was not nearly enough so they played most of the songs more than once.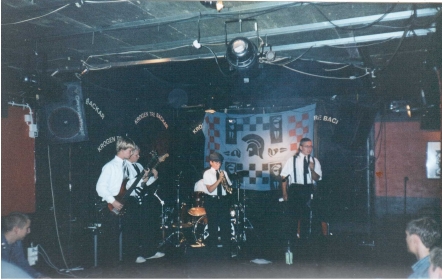 Very young but talented CDS (Crazy Daisy Screaming).
021102 Ten year celebration and release. AMTY records released the full length Xplosions cd and a vinyl single with Magadogs. Unfortunately Xplosions didn't go on stage, but we still maxed out at full speed with Liptones, Magadogs and secret guest oi band Clockwork crew. The second time we filled Muhren and the entire room bounced!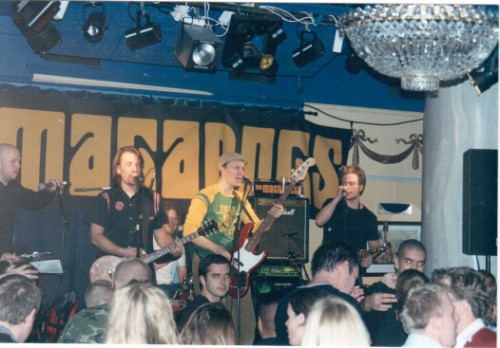 Magadogs from Östersund.
030530 Eskalator & Bustups – Muhren. Two really good skabands at different ends of the genre, which should have attracted much more people than they / we did. Pure loss of business for us, but lots of good dancing for those who were there.
Eskalator from Stockholm with their excentrick singer.
031108 Babyhead & Liptones – Muhren. Again, two great bands with too small audience. Decent.
030801 Hotknives on Muhren, CANCELLED and replaced with Liptones. The day before the gig we found out that the drummer had a blood clot in his leg and the tour was cancelled. Only Liptones played and many choose not to go. Boring!
AMTY makes the decision to stop doing concerts
Various AMTY flyers over the years.
040925 Stiff Breeze – Tantogården. Well, well to permanently give up gigs of course, was a hasty decision. Along with Club Stomp It, we're back! Nice combo with Stomp Its young friends and our old fans in the same place.
041030 Bustups– Tantogården. Full house at Tanto. Combo AMTY and Stomp It turned out to be a hit.
041127 Liptones & Stajnas Lobos – Tantogården. CANCELLED. Two days before the gig I called a friend who told me that their gig the weekend before been canceled because the venue had problems. We frantically tried to get hold of Tanto for info but only on the day of the gig we found out it had benn cancelled. Worst service ever!
New decision – No more concerts for AMTY.
110413 Toasters – Sugar Bar. AMTYs concert events resurfaced with Club Control. Perhaps not the most crowded show, which is a little strange with one of the Ska world's most active bands, but this idea made us wanting more.
110917 Liptones & Tic Tox – Snövit. This time co-organizing with Olämpligt sällskap. Unfortunately, not everyone who wanted to see Liptones got in, since the queue stretched far out into the street. The gig was also the unofficial pre-party for the Specials, who played at the Circus the next day. Tic Tox which is now a much smaller band than Liptones refused to play first, which ultimately proved to be foolish, as many left after having enjoyed the main attraction Liptones.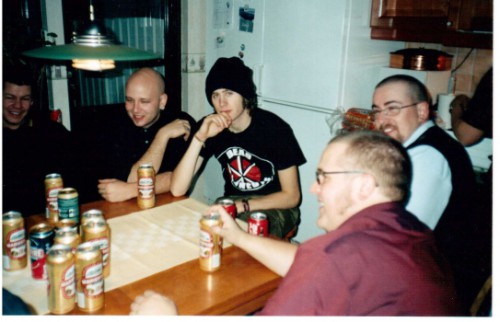 Liptones at Stefans place early 2000.
111015 Bakelit & Lavettes – Snövit (the latter band replaced the Mobster, who unfortunately lost their drummer. We think he went south on a goose). Nice gig, despite the goose.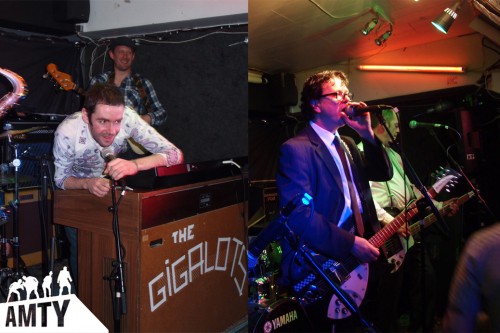 120428 Mobster & The Gigalots, Snövit. Two good concerts with two swedish bands. Mobster, a routined band from south of Sweden and Gigalots an upcoming band from Stockholm with members from Eskalator.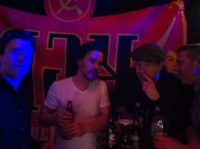 A nervous Svintask
140228 Svintask on 7″ vinyl – We arrange a release with Svintask at the club KGB in Stockholm. The band does their second ever live performance with a hole lot of songs. All done in 15 minutes. A great but fast gig!
The Liptones sound checking at Dingwalls, London
140420 The Liptones at The London International Ska Festival – The Liptones performed a beloved performance at London Ska Festival (arranged by Sean Flowerdew). The band would have been a new experience to most of the spectators, but their feet showed how well the band played. Nobody could stand still. This event was not arranged by us, but we were behind that the band got Thera and we contributed with selling our eminent merchandise.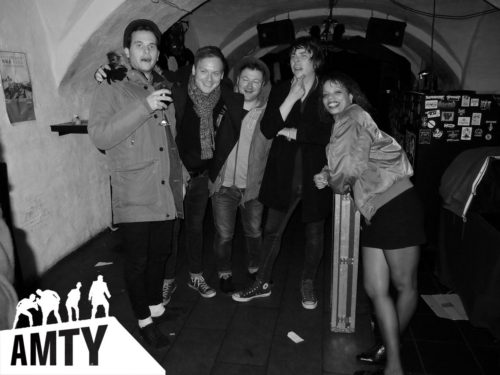 Buster Shuffle
141025 Buster Shuffle live at The Liffey, Stockholm with The Liptones as support. Thirst concert after many years with a foreign band. After a slow start the venue solds out the day before the concert. The day starts with The Liptones doing an acoustic play in a local record shop. The band also has their release of their new album Sidospår. The actual concert are a total success with two happy bands and a great audience.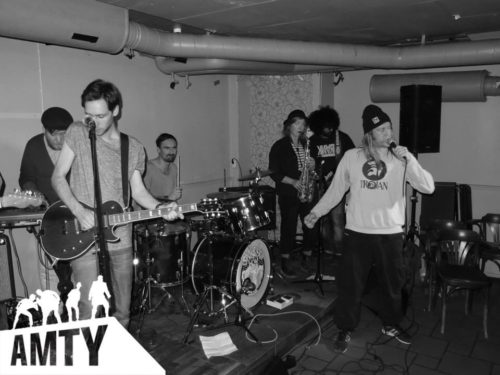 Spökstan
141206 Spökstan concert and vinyl (7″ EP) release – This event also starts with an acoustic set att Little Shop of Records store. The evening gig is at Broder Tuck, Stockholm. Guest starring are the punk band Half from Växjö. Both band does great performances. And the audience that first seems lacking roles in and fills up the place just as the gig starts.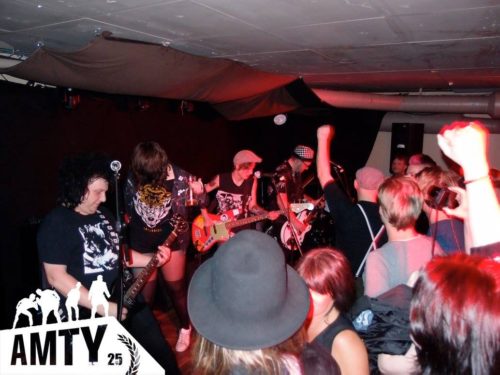 Headons at Broder Tuck
160129-30 A Message To You 25 years fest – At out 25th anaversary the stage a minifestival with a smaller Friday gig and a larger one at Saturday. The Friday event stares That Driving Beat, Headons and Spökstan at Broder Tuck. The place is totally crowded. The day after (Saturday) the venue is En Arena. The lineup are Smash it Up, Topper, Liptones and Buster Shuffle. En Arena are a much bigger arena our goal were 300 but the managed just under that. The ones that showed up had a great evening.