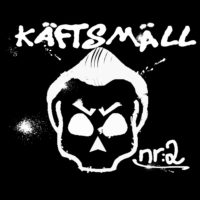 SVENSKA
Käftsmäll släpper här sin andra platta, även denna producerad av Håkan Sörle. Bandets tidigare 77-influenser finns fortfarande kvar, även om bandet nu flyttat såväl musik och texter ännu mer in i vår samtid. Till sin stora besvikelse har nu en av låtarna gått över den magiska treminutersgränsen. Käftsmälls melodier är knivskarpa och samma skärpa ligger i texterna vars igenkänningsfaktor funkar lika väl vare sig du är 14 eller 55.
Käftsmäll är svensk punk på svenska med klara rötter i 77-punken. Bandet bildades 2017 och kom ut med sitt första släpp EP:n 1:an 2018. Sedan dess har de spelat en hel del runt i landet på egna ben, som support och på festivaler.
ENGLISH
Käftsmäll now releases their second EP. As the last one it's produced by Håkan Sörle from the Baboon Show. The bands 77-influences are still there, even though both lyrics and music has moved more in to todays society. To their disappointment one of the songs now stretches beyond the magical tree minute line. The lyrics of Käftsmäll are razor sharp with a high recognition factor for both the 14 year as the 55 year punk rocker.
Käftsmäll are Swedish punk in Swedish with clear 77-influences. The band was formed in 2017 and had their first release in 2018 with the CDEP 1:an. Since when they have played a lot round in Sweden for themselves, as support and in festivals.
* Swedish punk
* 77-punk put in our contemporary time
* Sounds like a smash in the face
* Punk for every suburban rebel
* For all punks from 1 to 99
* Sounds like Sham 69
* Same energy as Asta Kask
* Punk never dies!
* Punk rockers may grow old but they never loses the impact of 77