Deals Gone Bad - Welcome to the vault (3 Lp + 7")
250 kr
In stock (2 available)
Categories
Tre Lp i färgad vinyl, plus en singel med dessa amerikaners första släpp. Nu på vinyl för första gången.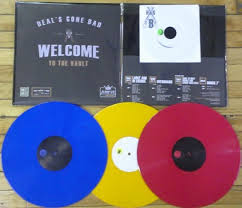 7″ Single
A: Dread rock
B: Masters of war (bonus track)
Lp 1. Large and in charge (1998)
Den här skivan tar sig mer för varje genomlyssning. Skivan har jämna mellankoliska låtar. Var för sig sticker inte låtrna ut speciellt mycket, men som helhet blir det desto bättre. Dock finns det två låtar som jag vill höja lite extra, den jazziga "Good Times" och suveräna reggaeversionen av "Dirty Old Town".  Betyg 3 – Henrik (Ur amty 14)
Track 1, 3, 8
Side:A
1. The elephants
2. Pirates
3. Nothing else
4. Watting you
5. Curse of the cur
6. Leasing town
7. Dollar down
8. Mad at the world
9. Mini-thins
10. Good times
11. Deal's gone bad
12. Someone for now
13. Dirty old town
14. Stagger Lee (Bonus track)
Lp 2. Overboard (1999)
Amerikanska Deals gone bads andra platta. Ett band som mycket oförtjänt kommit i skymundan av band som Hepcat och Stubborn Allstars för man är minst lika bra med sin långsamma Ska.
Track 2, 7, 8
1. I'm sorry
2. Better off
3. Fat cat
4. Shame and humiliation
5. Loverboy
6. Too early too late
7. Stop and listen
8. In the land where no one walks
9. Honest woman, honest man
10. Games people play
11. Shiver me timber
12. Hang 'em high (bonus track)
Lp 3. Guide to boat, drinks & cruise cocktails (2014)
Deals Gone Bad! "Guide to Boat, Drinks & Cruise Cocktails"
Bandets tredje skiva från 2002. DGB har lite oförtjänt kommit i skymundan från de andra originalska banden från New York. Gillar du USCB All Stars och Slackers så är det här verkligen ett band för dig. Det är även kul att de avslutar med en Judge Dread cover i en mycket speciell tappning (i denna utgivning på singeln)
Track 1, 3, 8
1. Time marches on
2. One more trip
3. Be mine tonight
4. Can't stop it ska
5. Debbie does
6. Little things
7. Killer driller
8. Old fashioned way
9. Hobbit rock
10. I remember how
11. West of the sun
12. Sweetness
Related products