Publicerad 11 augusti, 2014 kl. 13:48 i kategorin
Nyheter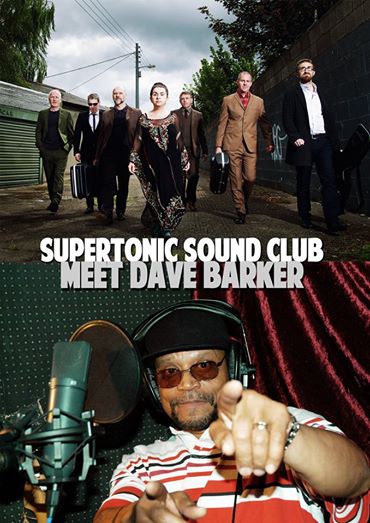 Jamaikanske legenden Dave Barker är tillbaka med en ny singel samproducerad/-inspelad med Dublinbaserade Supertonic Sound Club.
Som sångare i legendariska duon Dave and Ansel Collins, Dave Barker fick de en no. 1 hit i Storbrittanien 1971 med "Double Barrel". Det var också den första reggaesingeln som nådde topp 30 i USA. Bandet följde strax upp med ännu en topp 10 i Storbrittanien "Monkey Spanner". Dave Barker har spelat in och uppträtt sedan reggaens uppkomst på 1960-talet. Han har uppträtt tillsammans med band som The Techniques and The Selecter och hab har även släppt ett antal egna låter som "Prisoner of Love" och "Shocks of Might".
Supertonic Sound Club är ett åttamannaband influerade av gamla skolans soul-funk och original Reggae/Ska. Under en kortare period 2010, genomförde bandet sessioner med både BBC  (Mark Lamarr's God's Jukebox show) och RTE. Även de är nu tillbaka och kommer med ett debutalbum 2015, som kommer att ha med ett antal olika sångare. Medlemmarna i Supertonic Sound Club har uppträtt tillsammans med band som Oasis, Sinead O'Connor och Van Morrisson. www.facebook.com/supertonicsoundclub
Marc Lamarr, BBC Radio 2: "Very nice, funky soul… superb!"
Craig Charles, BBC 6 Music: "I really rate this Dublin-based outfit – clever arrangements and they've done a fine job of attracting vocalists who can really carry the tunes."
"Scheherazade" kommer att släppas på såväl 7″ vinylsingel somför digital nedladdning. Promo CDs finns för radiostationer och XX. En video har även producerats för "Scheherazade" av tecknaren Declan Moran. B sidans "Little Boy" är ett originalverk från Supertonic Sound Club med New Yorks Shelley Bukspan på sång.
AMTY 023 SUPERTONIC SOUND CLUB FEATURING DAVE BARKER Scheherazade / Little Boy (7″ vinyl / digital nedladdning) www.amty.se
Video: http://www.youtube.com/watch?v=vwENI1UCvz0&feature=em-upload_owner
Release datum: 15 september 2014