Publicerad den
Release 15 September – Supertonic Sound Club feat. Dave Barker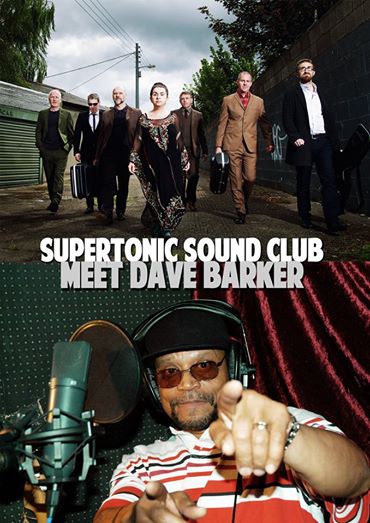 Jamaican reggae legend, Dave Barker returns with a new single co-written/recorded with Dublin based band, Supertonic Sound Club.
As vocalist with reggae duo Dave and Ansel Collins, Dave Barker scored a No. 1 hit in the UK in 1971 with "Double Barrel".  It also became the first ever reggae single to reach the Top 30 of the US Billboard Charts and the band followed up its success with another UK Top 10 hit shortly afterwards with "Monkey Spanner".  Dave Barker has been recording and performing since the birth of ska and reggae in the 1960s.  He has played with likes of The Techniques and The Selecter and has a string of solo releases to his name including "Prisoner of Love" and "Shocks Of Mighty".
Supertonic Sound Club are an 8 piece outfit, influenced by old school soul-funk and authentic reggae/ska.  During a brief period together in 2010, the band recorded sessions for both the BBC (Mark Lamarr's God's Jukebox show) and RTÉ.  They have now also just returned and have their debut album set for release in 2015 which will feature a number of different vocalists.  Members of Supertonic Sound Club have performed with the likes of Oasis, Sinead O'Connor and Van Morrisson.  www.facebook.com/supertonicsoundclub
Mark Lamarr, BBC Radio 2: "Very nice, funky soul… superb!"
 Craig Charles, BBC 6 Music: "I really rate this Dublin-based outfit – clever arrangements and they've done a fine job of attracting vocalists who can really carry the tunes."
"Scheherazade" will be available on both 7 inch vinyl and digital download.  Promo CD singles are now available for radio stations and review purposes.  A video has been produced for "Scheherazade" by animator, Declan Moran.  The B Side of the single is another original track from Supertonic Sound Club entitled "Little Boy" featuring New York's Shelley Bukspan on vocal duties.
AMTY 023 SUPERTONIC SOUND CLUB FEATURING DAVE BARKER Scheherazade / Little Boy (Digital Download / Limited Edition 45 vinyl) www.amty.se
Video: http://www.youtube.com/watch?v=vwENI1UCvz0&feature=em-upload_owner
Release Date: 15 September 2014