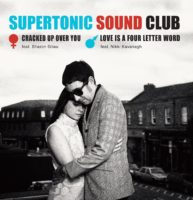 Supertonic Sound Club are a Dublin based band influenced by old school soul/funk and authentic reggae. They have performed in session on both the BBC (Mark Lamarr's God's Jukebox) and RTE (Tommy & Hector Show) and have received national airplay in Ireland, England and Italy.
Mark Lamarr, BBC Radio 2: "Very nice funky soul…superb"
Crag Charles, BBC 6Music: I really rate this Dublin based outfit…clever arrangements and they've done a fine job attracting vocalists who can really carry the tunes"
The band's debut single was released on AMTY Records in September 2014 with guest vocalist, Jamaican reggae legend, Dave Barker who as part of Dave & Ansel Collins had scored a No. 1 hit in the UK Charts in 1971.
A follow up single is due out on 7th March 2015 and will be a double A-side featuring storming versions of 'Love is a Four Letter Word', from the iconic Get Carter soundtrack, and the northern soul classic 'Cracked Up Over You'. Listen out for the superb soul vocals of Nikki Kavanagh (Sky Sports Presenter/UK X-Factor/Eurovision) and Sharon Gitau (MTV's The Real World) respectively. This single will be released on vinyl and as a digital download on AMTY Records/Strong Rabbit Records. A debut album will follow later this year, featuring a selection of outstanding special guest singers.
Track: A
Sid A.
Cracked up over you (feat. Sharon Gitau)
Sid B.
Love is a four letter word (feat. Nikki Kavanagh)
Listen/download: