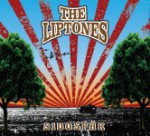 The Liptones – Sidospår (LP/CD)
The Liptones were formed in 1997 by Mo and Mårten, playing a mix of ska and punk rock. By the year
2000, the line up had expanded to 7 members and a record deal was secured with AMTY Records. Their debut album,
Latest News was released in to great acclaim in the ska world and this has since been followed by 'In English' and 'The Meaning of Life'. Tracks from the band have also appeared on many international compilations.
The Liptones are the longest ongoing ska band in Sweden and have a steady following not only in Sweden but throughout the world. The band have performed at festivals throughout Sweden, toured Germany, Denmark etc. and
were one of the leading acts at the London International Ska Festival in April 2014.
Track A: 2, 4, B: 4
A.
1. Vem fan tror du att du är
2. Med dej
3. Mörka kvarter
4. Ju större dom är
5. Nattugglan
6. Stunder i moll
B.
1. Bara lilla jag
2. Fri
3. Vi skulle våga
4. 11e timmen
5. Sommarlåten
Listen/download: